Free Database Software Options

An article by
Jorge Reis

1 Comment
The World Wide Web gives one person the ability to reach millions of people around the world. Your customers don't have to go out and search for your address as they can simply go online and find you with a click of their mouse. This is why more than half of business transactions today are done online. From blogs to e-commerce sites, web applications are used all over the world.
Shopping online has become more and more common, and more consumers rely on online merchants to get their supplies. Businesses can also be transacted online that many entrepreneurs of today are taking advantage of the World Wide Web to bring their business across the world.
Why Use a Database Software
To be able to create your website, you need a database to store and manage your data, which are the contents of your web pages. There are different types of databases depending on what you need. Flat file databases are simple websites to publish small amounts of data that can be edited manually. Relational databases are more complex structures which can handle web interaction and applications.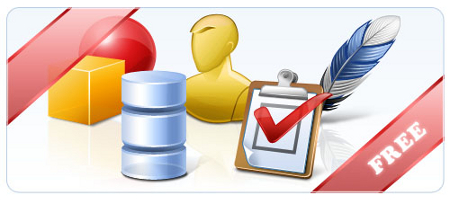 Desktop and Server Databases
The simplest example is desktop databases. These are computers that are used by a single person who doesn't need any web application. Other databases, on the other hand, that requires heavy duty application such as publishing content on the web, multiple users, and e commerce requires server databases.
Server databases can be expensive, but there are ways that you can publish your content online without spending a lot of money. Web operators can use a desktop database such as Microsoft Access to create HTML and data pages to publish their content on the web. This requires some manual installation though, and if you want to change or update your site, you may have to repeat the process. Apart from that, web operators can also create dynamic web pages with the same system. They can utilize Microsoft's active server pages. Unfortunately, this is a Microsoft-specific type of technology, so the user needs compatible servers to go with the technology.
Free Database
Those who don't want to spend any money at all can try free database software on the Internet. There are free database servers that can be found, such as the DB2 Express-C. It's a fully functional free data server from IBM. It can be used to build and deploy applications. There are no fees for licenses, and it can be used free of charge. Unlike other free databases such as Oracle and Microsoft, DB2 does not have any restrictions on the amount of data that can be stored, resources that will be used to work at a high level of performance, and number of instances. You can store as much as you want, given that you have enough disk space, uses two processors with 4-GB memory and multiple databases of up to 256 for a single instance. Web operators can utilize many different tools on the web, and it's just a matter of finding the right one for their needs, either Postgree or Mysql are good options. Free database software options are available on the web that delivers as much as other expensive systems.