Disaster Recovery Solutions

An article by
Anthony Clark

Comments Off
When disaster strikes your IT infrastructure or network, having quick access to disaster recovery solutions is paramount if the system to is to be restored to full service. Whether they are in-house or outsourced, the solutions called for in the disaster recovery plan need to be available in a timely and reliable fashion.
Disasters are by their nature unpredictable, difficult to anticipate, and usually very inconvenient to users of the system. Little can be done to prevent many disasters, especially natural, but even man made disasters are often not easily prevented, hacking attacks or denial of service attacks are rarely advertised before the event.
Proper planning for disaster recovery solutions is therefore one of the primary roles of senior IT staff, who are required to analyze all systems and threats in detail, finding specific failure points, before beginning the process of setting goals and determining possible solutions in the event of disasters.
In smaller corporations it is often better to outsource disaster recovery solutions to the contractor responsible for building and maintaining the network, who are better placed to understand the threats faced and make contingency plans for retrieving off-site backups or swapping out problem components.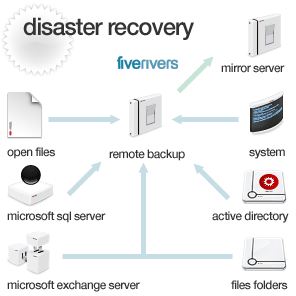 Outsourced disaster recovery solutions are often considered an efficient use of company resources allowing the IT team to focus their energies on improving and maintaining existing systems. Cost wise, outsourced solutions mean that backup components don't require capital investment, but are still available when required.
By contrast, internally sourced backup and redundant components offer peace of mind and security in larger corporations where specific components are chosen for compatibility and reliability, and where unknown components are considered a risk to the overall goals of providing uninterrupted service levels.
Disaster recovery can take many forms, each solution potentially requiring different resources and implementation. Similarly, scaled solutions often require vastly different implementations, for example the need for off-site backups may not require much more than contracting a security firm to collect daily backups, or it may require real-time backup synchronization on redundant systems that are capable of taking over instantly.
Successfully recovering from disaster is not luck, very few corporations have remained viable businesses after a disaster has struck, the few who do service have demonstrated a willingness to invest in solutions, preparing for the unforeseen, and have plans and systems in place to cope. Larger corporations are at the same time more vulnerable, and yet also more resilient, than small localized businesses, but once the market has lost faith in their ability to recover from disaster, their days are numbered.
Those corporations that seem to weather the storm more successfully than others also tend to have IT managers who work well with other senior management and adopt a whole-of-business outlook. The reality is that any disaster recovery solutions planned and then implemented need the support of key personnel in other departments if fiasco is to be avoided.
Staff training, and the insistence of senior management that policy is followed are critical to the success of any disaster recovery. Solutions need to be implemented across multiple departments and often disparate locations. The IT department needs to know that it can carry out it's function without undue influence from nervous departmental managers, and that the solutions they implement are accepted.